This page covers the early nineties, a time which saw the system undergo a major transformation from the diesel age to the new electric era. Photographing the changes were well worthwhile as it was a case of out with the old and in with the new. More passengers, more services & for the photographer more fences and wires which changed photo locations for ever.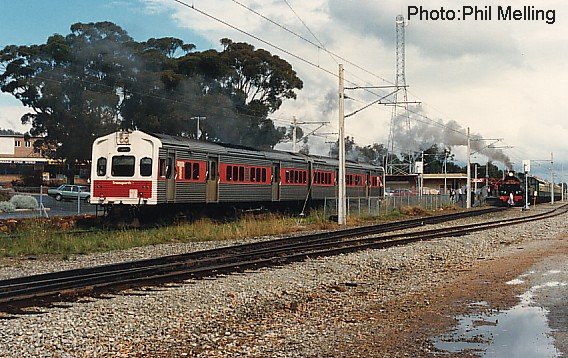 ADL808+ADC858 depart Armadale Station under the wires while W908 hauls an ARHS charter to celebrate the opening of the Gosnells Railway Markets where the society's DD596 tank loco resides. Photo taken on 9 September 1990. The ADL+ADC now work on the Auckland, New Zealand surburban system.
A1504 departs Fremantle with a "Queensland" set on 12 February 1991. The Queensland set eventually went back and 1504 ended up in New Zealand.
On the 7 December 1991 the ARHS ran a two car railcar charter via Armadale to Mundijong then via Kwinana & Fremantle to Perth to celebrate the end of the old diesel railcars which had only weeks left in service. The cars are seen at a photo stop at the new relocated North Fremantle Railway station.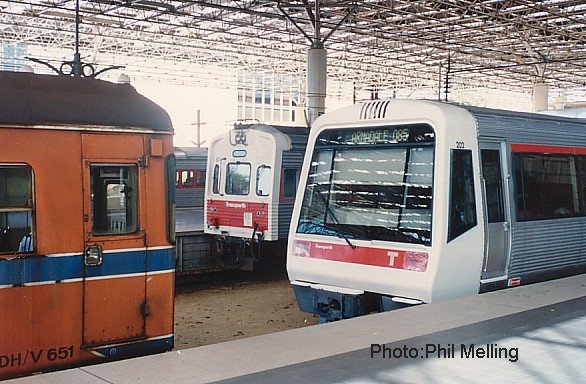 A few of us took a photo of this scene at Perth railway Station after the charter arrived back on 7 December 1991.
ADH/V 651 is pictured near electric car AEA202 and across the tracks ADL 805.A scene that cannot be repeated.