In September 1989 Great Western Castle 4079 Pendennis Castle was bought down from its Pilbara home to Perth. It was to run tours with 4472 Flying Scotsman then on tour in Australia as part of the Bi-Centennial. At one stage it looked as though W.A. might miss out on the visit of the famous Flying Scotsman Locomotive from England, but thanks to Ian Willis (now at the Pemberton Tramway) and his company Willis Engineering, Perth got to see not only "the Scotsman" but Pendennis Castle as well. Given below are a few photos of the varied programme that occurred.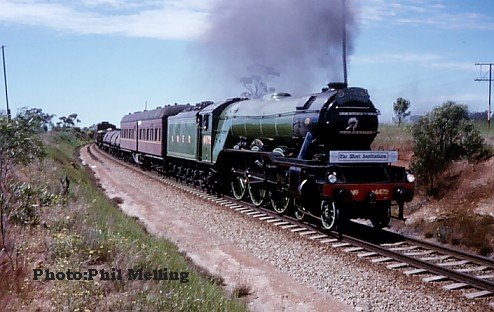 4472 Flying Scotsman is seen here near Meckering on its way to Perth for its historic "meet" with 4079 Pendennis Castle at the East Perth Rail Terminal. Photo taken 17 September 1989.
4472+4079 head their train to Northam seen here passing Swanview on 23 September 1989.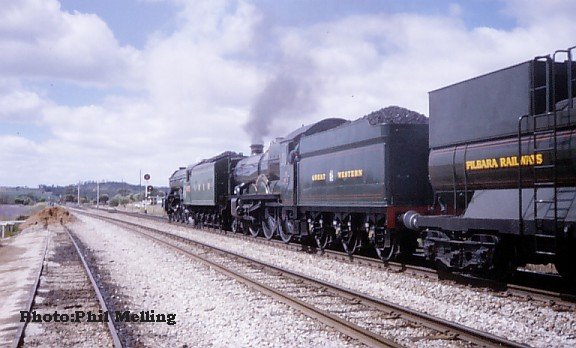 4472+4079 head to Seabrook Loop (east of Northam) to run round their train on 20 September 1989.
To the West of Northam is Avon Yard, it is here that 4472 is turned on the turntable. Photo taken 20 September 1989.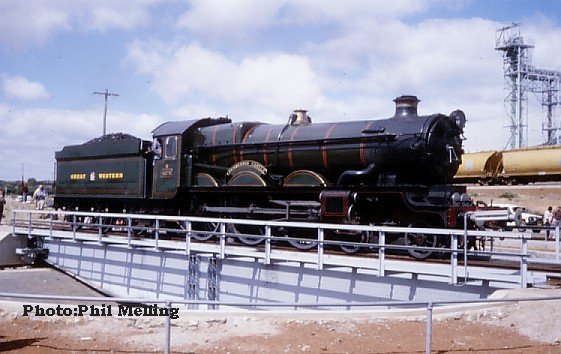 4079 Pendennis Castle is seen here being turned on the Avon Yard turntable on 20 September 1989.
For the return journey back from Northam to Perth, the train was split into two portions, with 4472 on one and 4079 on the other. At the various crossing loops in the Avon Valley the trains were able to alternate by overtaking each other. Seen here in the picturesque but difficult to access Avon Valley is 4472 on 20 September 1989.