An occasional page featuring the railscene in Western Australia 20 years ago. Featured at the moment is January & February 1982.
AB1536 is seen arriving at Narembeen with a train from Kondinin on 4 January 1982. AB1536 is still working for AWR and has just been reactiviated after a period in store.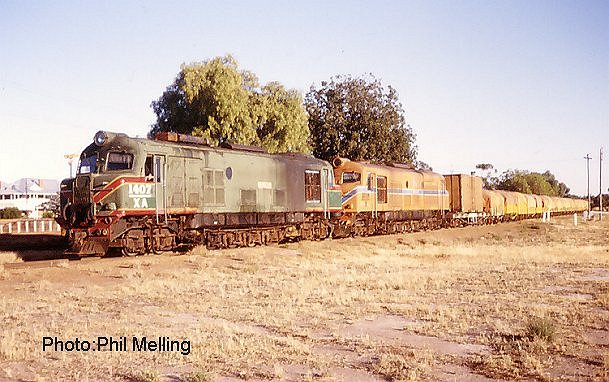 The Metrovick X class diesels were still an important part of the railscene in Western Australia in 1982, XA1407 Wirngir + XB1018 Inpirra are seen arriving at Bruce Rock with a train from Merredin on 4 January 1982.
Even on the Great Southern Railway it was still possible to photograph Metrovicks on the mainline, here XA1401 Pedong+ XA1413 Yabaroo are seen passing Broomehill on 8 January 1982. 1401 has been preserved on the Hotham Valley Railway.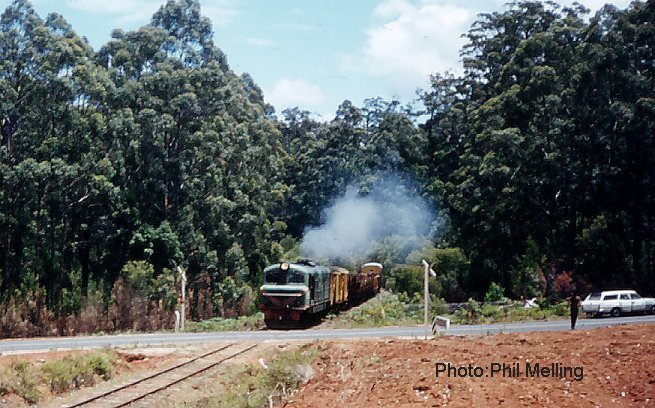 In 1982 the Pemberton to Northcliffe Railway was still operated by Westrail (now part of the Pemberton tramway). X1007 Natingaro powers a loaded timber/ mixed goods train over the Pemberton - Northcliffe Road on 11 January 1982.
N1877+D1565 haul an empty bauxite train through Mundijong heading for Jarrahdale on 12 January 1982. The Jarrahdale line has closed but you can still photograph bauxite trains running through Mundijong from Pinjarra, normally hauled by a single S class diesel.
At Forrestfield Loco depot on 7 February 1982 X1001 Yalagonga, A1510 and R1901 were photographed. X1001 is at the Rail Transport Museum preserved as a static exhibit, A1510 was exported to New Zealand (its fate is not known)and R1901 was cut up.